We are very proud of our Math Teams for being recently named Grand Champions of the Cullman County Math Tournament! The individual results were shared in a different post, but attached are pics of the entire teams. 8th- 1st place, 7th- 1st place, 6th-4th place. Go Warriors!!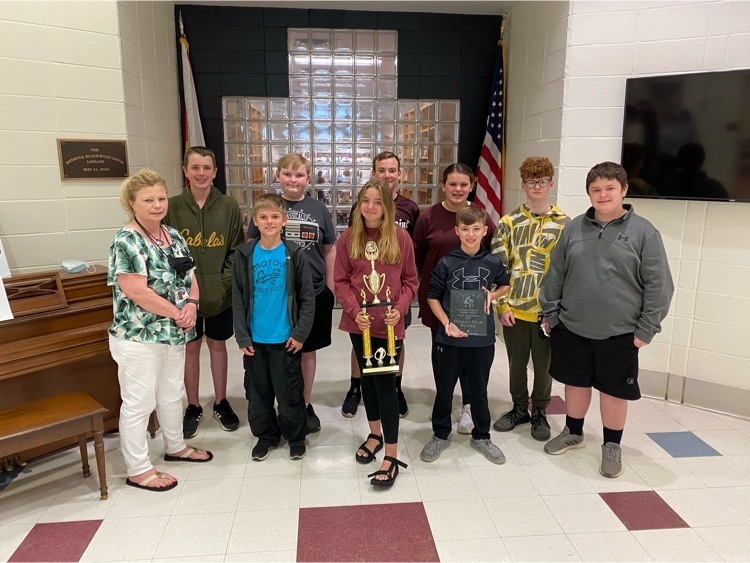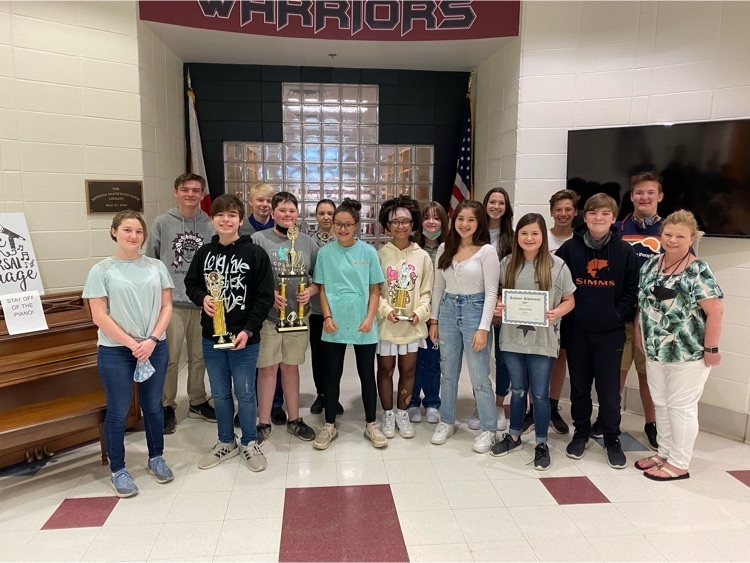 We were able to take our MS students to the HS performance of Shrek last week. We had a few middle school students involved the the play also. Great performance by everyone involved!!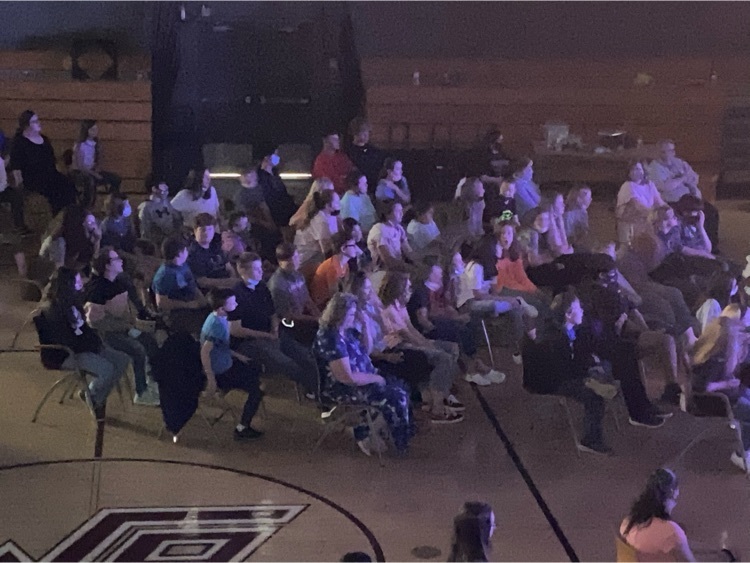 We are very proud of our Students of the Month for March! 6th grade- Lilly Herring 7th grade- Breanna Figueroa 8th grade- Laine Thomason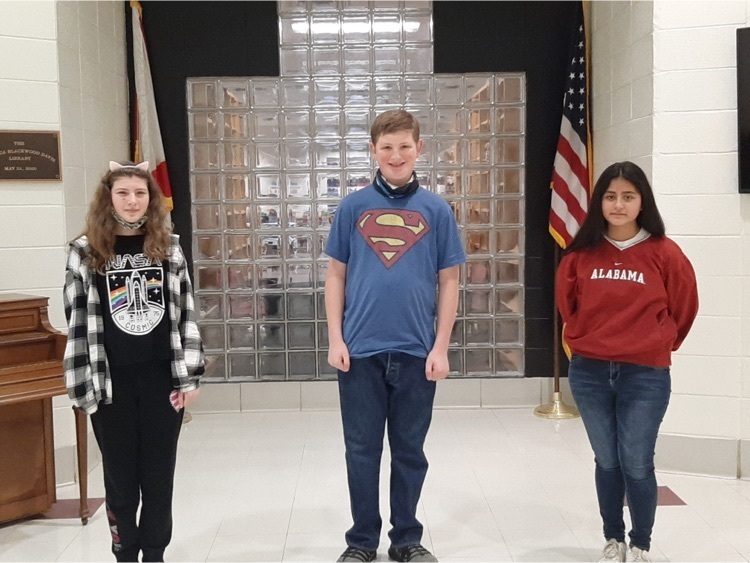 Update: Buses are clear to begin rolling. The storm threat has passed. Thank you for your understanding as we continue to put your student's safety first.

Update: We expect all buses to be rolling by 3:30pm. We will update once Dr. Barnette gives the all clear. Students are safe - this is just a precaution.

IMPORTANT WEATHER INFORMATION: Due to a Severe Thunderstorm Warning right now, ALL Cullman County school buses will hold at campus until the threat passes.

We are very proud of the WPM Scholar's Bowl Team!! The final two matches of the "Regular Season" of Cullman County Middle School Scholars' Bowl League: They finished with a perfect, undefeated record for the season. The Middle School County Tournament will be on April 30. This also means, that my 8th graders went their ENTIRE middle school career without EVER losing a match. 32-0 from 6th to 8th grades. Go Warriors!!

There will be a football parent meeting in the MS lunchroom on Thursday at 6pm for any current 6th and 7th grade student that wishes to play football next year.

Congratulations to Jay Lamar on winning the Regional Hoop Shoot competition!! Jay made a perfect 25/25 free throws to take home the crown. Jay has won the county, district, State, and Regional competitions. He will now be competing for the National Championship!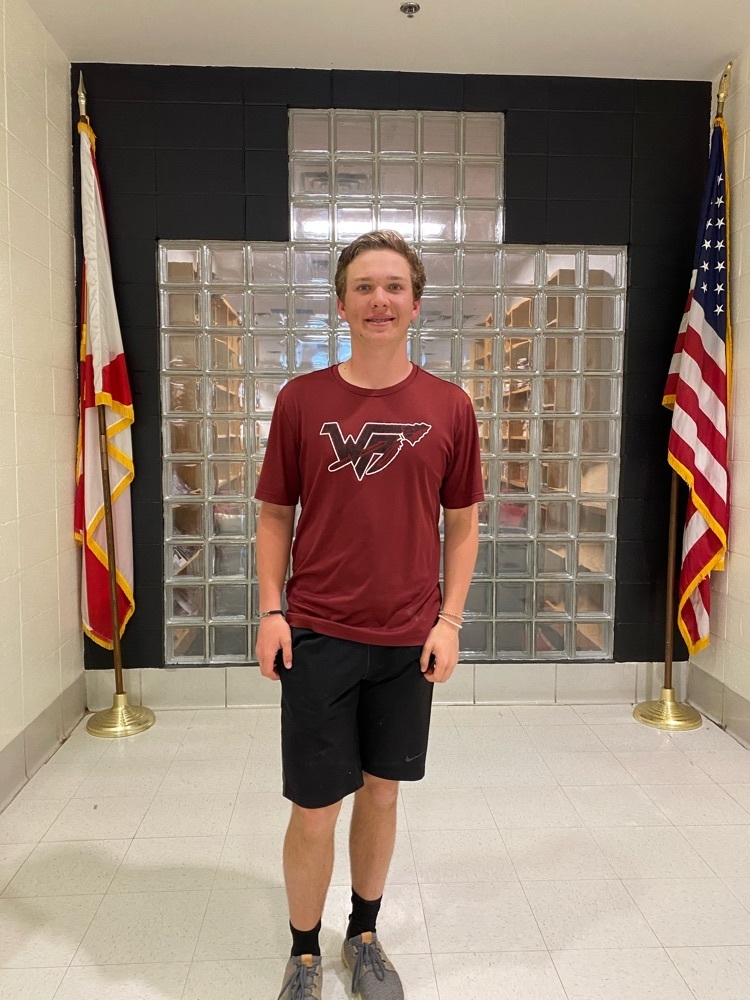 Cullman County Schools will be DELAYED 2 HOURS on Friday, 3/26/2021 to allow for time to check roads prior to buses running.

Cullman County school campuses will be CLOSED Thursday 3/25 due to the threat of severe weather. Classes will be operating virtually.

FRIDAY SCHOOL PLAN: All Cullman County school campuses will be open 3/19/2021. School officials have been working to notify families with bus riders who are affected by weather-related road damage. Buses may be delayed tomorrow in some areas.

Here is some of the road damage across Cullman County this morning, discovered by our transportation crews. At least 33 roads are affected by yesterday's storms.

Cullman County Schools - CLOSED Thursday 3/18/2021 due to yesterday's storms. Numerous roads are closed, bridges washed out, and many campuses and families are without power.

SCHOOL DELAY THURSDAY: 2 hour delay 3/18/2021 due to weather. 12 month employees report at 8am.

Due to the threat of severe weather, all Cullman County school campuses will be closed Wednesday, 3/17/21. Employees will work remotely. No lunchroom meals or WiFi buses. Everyone stay safe.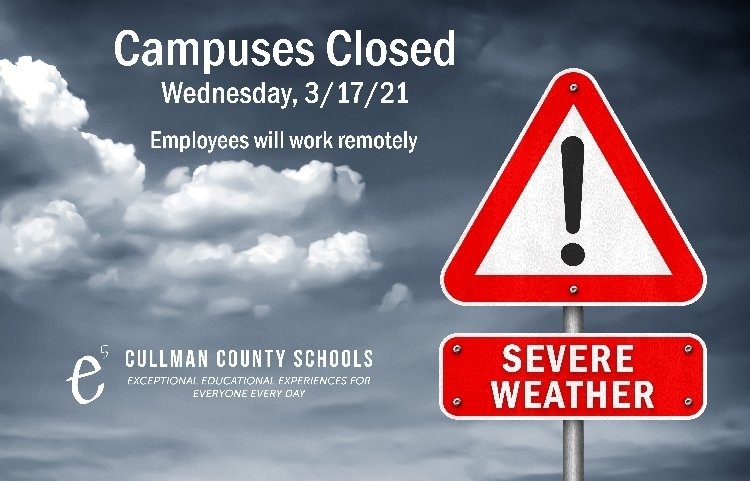 WEATHER ALERT: Cullman County Schools are DELAYED 2 HOURS due to flooding - Tuesday 3/16/2021